Playground equipment &
safety surfacing specialists
Our job at The Playground Doctor (TPD) is to ensure peace of mind for providers of public and commercial children's playspaces.
In Operation Since 1994, we have 25 years of experience in the industry.  At TPD, we have extensive knowledge with regards to the wide range of play equipment and Soft Fall (Safety) Surfaces that have been installed over the past 25 years.
Our Clients include; Councils, Public Schools, Private Schools, Early Childhood Centre's, Retail Outlets, the Construction and Landscape Industries, Aged Care Facilities.
We carry a large range of Spare Parts, and what we don't have, we can source for the client.
TPD has no affiliations with any other company within the industry, which ensures the unbiased and objective view on the products to best suit your requirements and budget.
The Playground Doctor is Fully Insured for all of the services we provide.
.
Soft Fall Safety Surfacing
Supply & Installation including Repairs to all Wet Pour Rubber, Synthetic Grass, and organic safety surfacing areas.
Playground Equipment / Spare Parts
Spare Parts Supply Only, Supply and Installation, Maintenance, Insurance Repairs. Spare Parts and Repairs for all brands of commercial and custom-designed items. Maintenance and safety inspections.
Sporting Surfaces
Synthetic Cricket Wickets, Long Jump Run-ups, Golf Surfaces, etc
Additional
Shade Sail Repairs,  child safety fencing, graffiti removal, pressure cleaning, park furniture.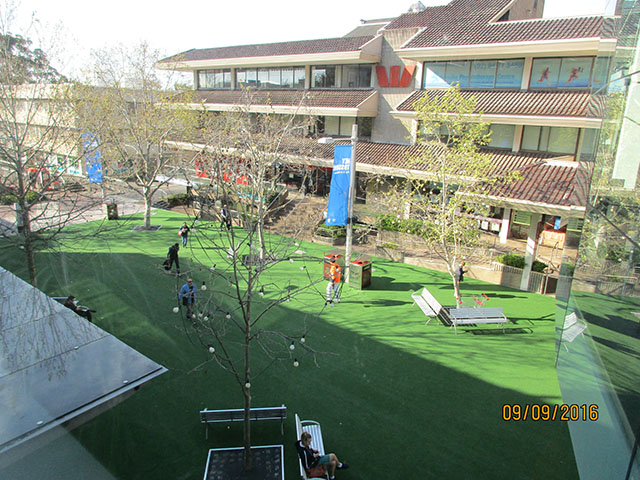 With the experience amassed over 25 years in the industry, The Playground Doctor can cater for all your needs. Whether it is a large Public Space, like the Synthetic Grass area in Hornsby Mall (shown in the picture opposite), or small repairs to your organisations Play Equipment or Safety Surfacing (Soft Fall), we have the capability to take care of it all.